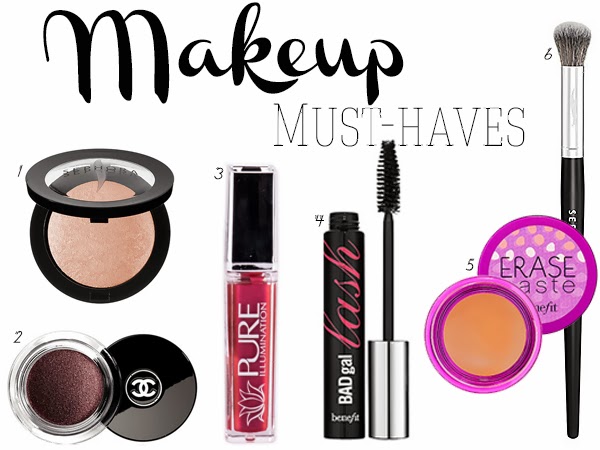 I've never been much of a makeup girl so thank goodness my my best friend is a beauty expert—more like makeup and skincare freak! She's definitely taught me a thing or two about products and how to use them. Over the holidays we spent hours literally playing makeup and checking out products in Sephora. It was a blast! Today I'm sharing some of my new favorite makeup products and a quick reason why.
Every girl needs a luminizer in her life and this one fits in anyone's budget at only $14. It adds a perfect sun-kissed and youthful glow for a healthy contoured look. This product is soft and very blendable making it versatile enough for your eyes, face and body.
While this eyeshadow might be a bit of an investment for most, I promise you it's totally worth it. It comes in 15 different shades each more gorgeous than the other. It's incredibly easy to pat on with a finger because of the innovative gel-like texture and can double as an eyeliner. Make sure to close the lid tightly or the shadow will dry out.
This stuff is the coolest. When my bestie whipped this out of her bag on the way to dinner one night it was definitely love at first sight. Not only is it a very conditioning lip gloss with great pigment but it has a built in light and mirror. The LED light allows application anywhere. You have to get one!
I don't know how many different brands of mascara I've tried but I know it's a lot. This one is definitely my favorite so far. It does exactly what it says by delivering dramatically full and voluminous lashes with a BADgirl brush size. It's like false lashes minus the glue—I'll take it!
If you don't listen to any of my other suggestions, listen up on this one. Erase Paste is a miracle worker that does exactly what it's called, it erases any unwanted object on your face. Wether it's a blemish, dark spot or bags under your eyes, it's concentrated, creamy and blendable consistency instantly brightens and camouflages all-in-one. IT'S A MUST-BUY!
This is one of my favorite new brushes to rid any imperfections I may have on any given day. It works great for applying Erase Paste or concealer for a flawless airbrushed look.