Black Top (more sizes here!)  |  Jean Shorts  |  Adidas Sneakers  |  Choker  |  Sunglasses
Fish Bowl  |  Pink Bowl  |  White Stripe Bowl |  Fruit Crate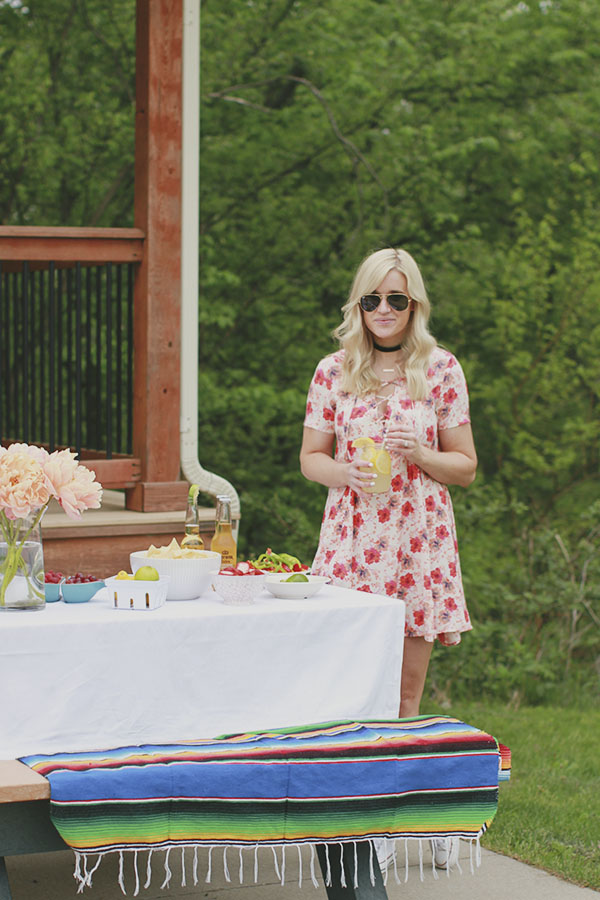 Dress  |  Choker  |  Sunglasses  |  Sneakers
Napkins  |  Gold Silverware  |  Tablecloth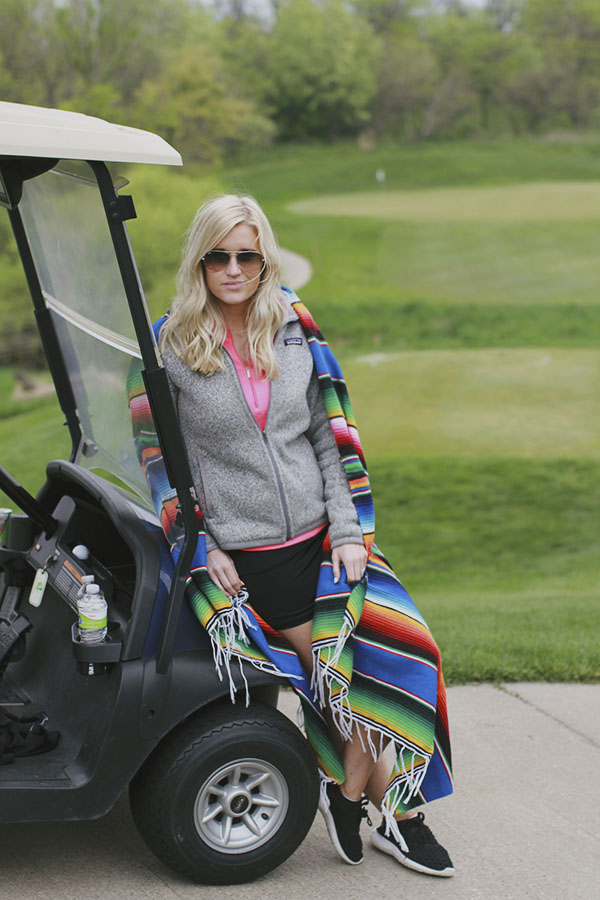 Jacket  |  Top  |  Skirt  |  Sneakers
This past weekend Brandon and I drove less than two hours south of Des Moines to Lake Rathbun. We were in need of some serious r&r and to escape for the hustle and bustle of our lives. Since we only had a few shorts days I was on the hunt for somewhere to stay that was both affordable and close to home. The best part was that we found a place that was dog-friendly—score! We stayed at Honey Creek Resort in one of their 28 quaint cottages. Our cottage was a two bedroom, two bathroom, with a full kitchen, large table and dining room, living room, vaulted ceiling and gorgeous wrap-around deck nestled beneath the towering trees that surround the lake. It was absolutely perfect. It had the quiet feel of solitude that we were looking for but the amenities of a luxury resort. The actual resort lodge was an quick 5-minute walk away which was super easy to grab food, firewood and anything else that we needed.
We arrived to the resort early Friday evening, checked in, unloaded our groceries and unpacked. We wanted to get a feel of the grounds so we leashed up the pups and went for a walk. Surrounding our cabin was the golf course, miles of hiking trails, a bike rental, a nature center and of course, the lake and marina. Everything was gorgeous and the freshest color of spring green. That first night we grilled filets, sat around the fire roasting s'mores and played with the pups. It was perfect.
Saturday we decided to sleep in a bit to catch up on some much needed rest. One of my favorite parts of this trip was room service—that's my kind of 'camping'. We ordered breakfast, a pot of coffee and a little something extra for the dogs. Each cabin comes with a large picnic table so we enjoyed our morning feast outside. After breakfast we took the dogs on another long hike until the skies opened up and poured rain for a few hours. That was the perfect excuse to cozy up around the fireplace and watch a movie. You have no idea how good it felt to relax. Late afternoon the sun came back out just in time for another long walk around the lake. Each cottage comes with a grill and fire pit so we knew wanted to hangout outside with the dogs, enjoy the sunshine and grill again. That night we made delicious fajitas and of course, roasted more s'mores! After all that hiking we were pretty exhausted and called it a night.
On Sunday we woke up bright and early for a morning tee time at The Preserve. Brandon loved the chance to get out an play a round of golf and I love riding around in the cart watching him. The golf course is his sanctuary. We actually already booked another trip to the resort in June for a golf tournament he's playing in. Making the choice to stay the Honey Creek was a no-brainer.  We cannot wait to go back!
Shop the Details