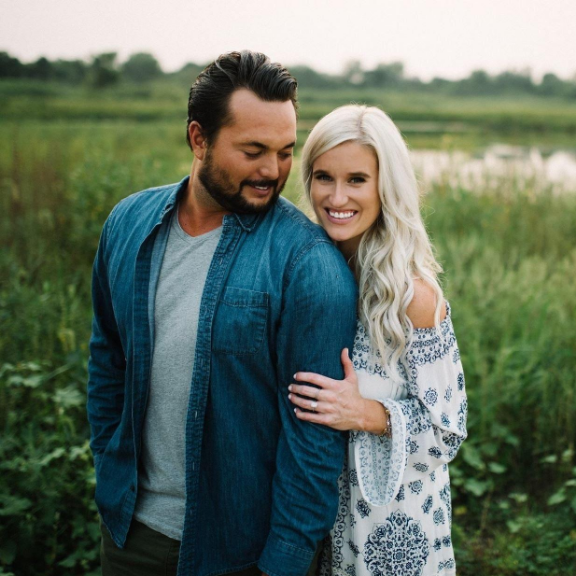 About the Blog
Welcome to Katalina Girl, a personal life and style blog written by Katelyn Cheek. Founded in 2012 as a creative outlet for Katelyn's love for fashion and sharing her adventures, this blog became a place to showcase her favorite things. Today, readers can expect to see topics ranging from fashion, beauty, home design, travel, married life, and much more. Katalina Girl is named after the street in South Carolina she lived on for a summer when starting her blog. It was a time when Katelyn felt young, carefree and full of inspiration. The Katalina Girl reader is the every girl: she loves fashion, loves home design, loves family but is frugal.
Meet Katelyn
Katelyn Cheek is a 25-year-old Midwest native. This newlywed has been blogging for almost 4 years now. During that time she's has attended multiple seasons of NYFW and worked with the likes of Target, Old Navy, Verizon, Henri Bendel, Rebecca Minkoff, Shopbop, Zappos, TRESemmé, Instyle Magazine, Dove, and many more. She currently lives in Ankeny, IA with her husband Brandon and her pups—Dash and Meyer. Together Katelyn and Brandon design and build custom homes and renovations with their family-owned business, Oakstone Homes.
FAQ
Where did you go to college?

I graduated Iowa State University with a BS in Apparel Merchandising, Production, and Design. I also finished with minors in Event Management, Journalism and Public Relations.
Why did you start your blog?

I'm the founder and fashion blogger behind Katalina Girl. Founded in late 2012, Katalina Girl is my personal style diary to share the things I'm truly passionate about related to fashion, home design, my pups, my family, beauty, personal style, entertaining and travel. I started my blog the last semester of college; it was my creative outlet to do whatever I wanted on my own terms and still live in Iowa. I loved sharing my style choices and being able to have something that could grow with me. It's always been my second job, but its never felt like a "job" to me, just an outlet I always look forward to at the end of the day or on weekends. It keeps me happy, excited and extremely motivated.
What's your day job?

I currently work at Meredith Corporation as the eCommerce Editor of Better Homes and Gardens, Parents.com, Fitness Magazine, Shape Magazine, Allrecipe.com, MyWedding, and More.com. It keeps me quite busy! At night I am a freelance writer for multiple publications and the Design Director for my husband's building and renovation business, Oakstone Homes.
What do you do for Oakstone Homes?

I work closely with clients to ensure their dream home becomes a reality. From exterior paint colors and flooring to furniture picks and floor plans, my creativity and vision helps create unique and personalized homes, renovations and additions. I've gotten really good at creating high-end design on a serious budget.  I also manage all of the company's social media. This is a job I have such passion for—and never knew I did! Being able to work on someone's home is such an honor because it's so personal.
What kind of camera and lens do you use?

I have a Canon 7D. My favorite lenses are my Canon EF 50mm f/1.2L USM or Canon EF 35mm f/1.4L USM lens.
Who takes your photos?

My husband, Brandon, takes my photos for me. He had no previous photography experience. We've both learned from trial and error.
How do you make money on your blog?

I make money two different ways including sponsored content and affiliate links. I'm blessed to have the opportunity to work with some amazing brands and if I'm ever being paid for a blog post, it will be disclosed within the post. I'm also a part of several affiliate advertising programs. This means that if you click and/or make a purchase through certain links on my site or any related social media platforms (including Twitter, Instagram or Facebook), I may make a commission from that purchase. I'm extremely selective when working with sponsors and I will only feature products and brands that I love.
What size curling iron do you use?

I use this exact curling iron HERE for tighter, longer-lasting curls and this one HERE for a looser, more relaxed look.
What hair products do you use?

I'm a Kerastase lover. I use this shampoo and this conditioner.  I use this leave-in conditioner.
What do you use for skin care?

I sell Rodan + Fields because it was love after first use. I use a mix of the Reverse and Redefine lines. Got questions about it? Email me!
You got married in Cabo! What was that like?

Check out my wedding posts, here, here, here, here, here, here, here, here, here, here and here! Watch our wedding video here.
What kind of dogs are Meyer and Dash?

Meyer May is a 3-year-old miniature Shihpoo. Dash Day Cheek is 10-month-old English Cream Golden Retriever.
Do you hire interns?

Yes, I hire interns to work in-house and remotely.
What brands have you worked with?

I've partnered with brands such as Target, Old Navy, Tobi, Visit KC, Verizon, Henri Bendel, Rebecca Minkoff, Shopbop, Lulu*s,  Zappos, TRESemmé, Julep, Redken, Pureology, Sears, John Frieda, Borsheims Fine Jewelry, Tarte Cosemetics, Gigi New York, Swell, Ramy Brook, Danielle Nicole, Instyle Magazine, Silver Jeans, Chinese Laundry, Aéropostale, Hallmark Flooring, Peach, Walls Need Love, Dove, Secret, o.b., Hornitos and many more.